One of the most exciting family activities in Colorado Springs is to enjoy a bike ride through a seemingly endless world of natural beauty. Enjoy such places as Pikes Peak, Garden of the Gods, and Gold Camp. View the beautiful red rocks, mountains, and wildlife of Colorado Springs from the comfort of your own journey or through guided services offering family bike tours in Colorado Springs.
If you are looking for outdoor things to do in Colorado Springs, find enjoyment from guided tour companies such as Pikes Peak Bike Tours. There is nothing more exhilarating than riding the trails and guided paths through one of the most beautiful scenes on the planet.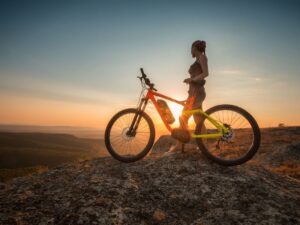 Guided bike tours help you enjoy the majestic scenery while being informed of significant details about the glorious nature of the area. You will learn about the beautiful land and wildlife while having fun with your family or friends.
We all know how hard it is to get the young kids away from a screen. With your family on a guided bike tour of the areas surrounding Colorado Springs, you can be sure they will love the scenic route while exercising.
A guided bike tour is the perfect getaway from the hustle and bustle of today. Take a break from your busy life and enjoy nature. You will find plenty of natural beauty with mountain views, full-city views, as well as forest views. Prepare yourself for an adventure of a lifetime.
Rest assured, your guide is a qualified professional with medical training. Team members go through a rigorous training program, following company guidelines. They are experienced guides who are familiar with the rugged territory. They will help you find those scenic tour stops you may have only heard about.
Pikes Peak Highway
Enjoy seeing Pikes Peak Highway on your tour. This famous landmark provides a glimpse into different ecosystems with plenty of natural wildlife. It also offers a full view of the city.
Garden of the Gods
The Garden of the Gods is an amazing place to visit. You will be in awe of the beautiful landscape as well as the ease of traveling throughout the setting. You will see red rocks, mountains, and abundant wildlife.
Gold Camp Road Tour
The Gold Camp Road Tour offers a journey through nature as well as history. On this adventure, you will find historic tunnels through which you can ride while your tour guide provides details about the wonderful background of the area. Prepare yourself to embrace the various colors and views of majestic forests. It is truly inspiring to see such beauty.
Throughout the areas surrounding Colorado Springs, you can lose yourself in the freedom of a bike ride. Your family will appreciate the time together as they journey through the landscape. Book your tour today with Pikes Peak Bike Tours. Let us guide you through one of the most stunning and highly regarded natural tourist attractions.